As Tilden grew older and the quality of his game dropped, he made far less effort to hide his homosexuality. His travels with young men, all of whom were good looking and who he referred to as his "pupils", started to shock middle America. He was progressively excluded from recognised tennis circles both in both the USA and overseas...
After the war, in what was an era of strong conservatism tainted by a level of intolerance through Maccartysm, Tilden fell into problems with the American justice system. He was accused of having made illicit and improper advances to young adolescents and undertook two successive spells in prison.
Had Tilden lived today things might well have turned out completely differently of course. With such a strong personnality, he could have become a star such as a television presentator, film actor or something similar. As it was he finished his life rather miserably. Still making a living from tennis lessons at the age of 60, Big Bill died on the 5th June 1953 of a brain hemorrage. He was found in his hotel bedroom with 282.11$ in his pocket. This was all he had left...
Despite the sad ending to this glorious tennis career, Tilden remains a hero in the hearts of many Americans. Only six weeks after having got out of prison, he was voted as the Best Tennis Player of the Century. Even today, whilst his memory is understandably tainted by those events towards the end of his life, he must still be recognised as one of a very small band of sportmen, and in particular tennismen, to have combined such strong personnality with unmatchable skill.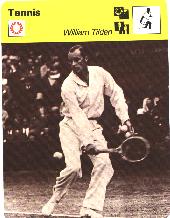 William Tilden, a collection of cards on tennis
1970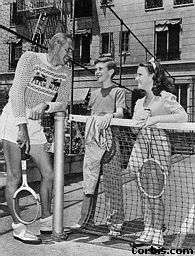 Coach Tilden in 1944. A rare
photo found of him in shorts!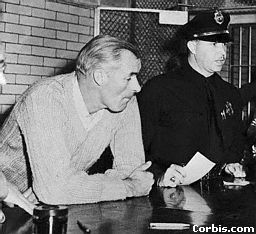 Tilden under judgement, November 1946.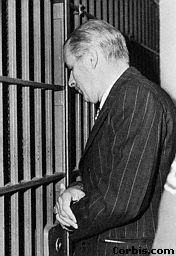 Tilden in prison, January 1947.