...

An advertising poster
for the first
World Clay Court
Championships
in 1912.
(Click on image to enlarge)

(6) 1912-1914
The first World Clay Court
Championships
It was an American patron of tennis called Duane Williams that first had the idea to sponsor a World Clay Court Championship in France. Duane travelled extensively and was a passionate follower of the game. He saw that Wimbledon was the only tournament that was recognised internationally. This gave a great advantage to those players who normally played on grass, in other words the British and Americans from the East Coast. The European climate lent itself far more to courts on hard ground. Hard or clay courts had therefore become predominant on the Continent.
In 1911, Duane approached the UFSPA in France (l'Union des Sociétés Française de Sports Athlétiques), a business federation acting as governing body for all athletic sports, including tennis. His offer of sponsorship was enthusiastically received and the Stade Français opened the doors of its renowned sporting facility to the new championship at Saint Cloud, just cmose to Paris.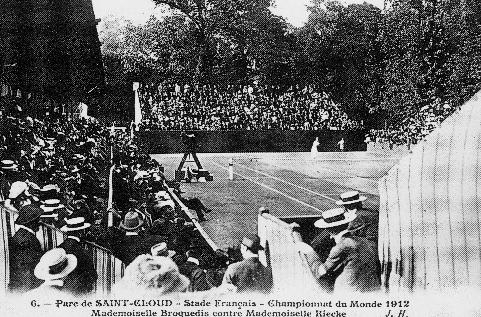 A postcard dating from the pre-war era showing Miss Broquedis
as the first Women's Singles World Clay Court Champion.
The first championship took place in the first week of June 1912 and was a great success with both players and spectators, achieving an immediate attendance of over 5,000 people.
Sadly, Duane Williams was not there to witness the great success that he had instigated. He tragically went down with the Titanic when it sank crossing the Atlantic in April 1912. His son R.N.Williams was one of the few survivors of this tragedy and, on a more happy note, went on to become a great tennis player in his own right. He was US Singles Champion in 1914 and 1916 and represented the United States, also at singles, in the Davis Cup of 1914. After the first World War he was doubles partner to Vincent Richards.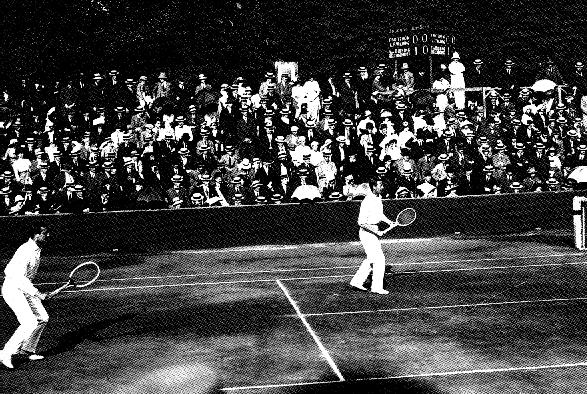 The German Froitzheim and New Zealander Wilding
at a men's doubles final at Saint-Cloud.
It was the German number one Froitzheim who won the first World Clay Court Championship at Saint Cloud. Froitzheim's doubles partner at the event was none other than Anthony Wilding, the then world number one and unbeaten Wimbledon Champion from 1910 through to 1913. Anthony Wilding captured the Clay Court Championship himself the following year, 1913, and retained the title again in 1914 when he competed without even losing a single set. His success in 1913 can be construed as a very first grand slam since he was simultaneously world champion on both clay and grass. It is also of interest to note that the championship at Saint Cloud did not follow the same structure as Wimbledon, where a challenge round continued to proceed the final with the previous year's victor. Champions from preceding years had to play the entire championship from start to finish and win their way through to a place in the final.

Suzanne Lenglen in the
1914 World Clay
Court Championship
Women's Final.
In June 1914, Suzanne Lenglen took the Women's World Singles Title by beating Miss Golding of the UK. She then had the tender age of only fourteen and a half. Suzanne was to become an exceptional champion. Her modern style of play was truly spectacular and a revelation to the game. She was well ahead of her time. After a break in proceedings for the first World War, she came back to Saint-Cloud in 1920 to regain the title. She retained it until the event closed with the last trophy being played out in 1923.
We have not unfortunately been able to obtain a lot of detailed photographic records of the initial World Clay Championships that were held at Saint Cloud. These championships were, arguably, of equal prestige to Wimbledon at that time and were the direct equivalent of Roland-Garros today. They have however largely been passed over by tennis historians. A brief resume of that material that was uncovered is given below.
| | | | | |
| --- | --- | --- | --- | --- |
| | Men Single | Women Single | Men Double | Mixed Double |
| 1912 | Otto Froitzheim (All.) | Melle Broquedis (Fr) | ? | |
| 1913 | Anthony Wilding(Aus) | ? | Froitzheim-Wilding | |
| 1914 | Anthony Wilding (Aus) | Suzanne Lenglen (Fr) | Froitzheim-Wilding (?) | |
| 1920 | William Laurentz (Bel) | Suzanne Lenglen (Fr) | ? | |
| 1921 | William Tilden (USA) | Suzanne Lenglen (Fr) | Laurentz-Gobert | |
| 1922 (*) | Henri Cochet (Fr) | Suzanne Lenglen (Fr) | Borotra-Cochet | Lenglen-Cochet |
| 1923 | William Johnston (USA) | Suzanne Lenglen (Fr) | ? | |
(*) The World Clay Court Championships of 1922 were contested in Brussels.
.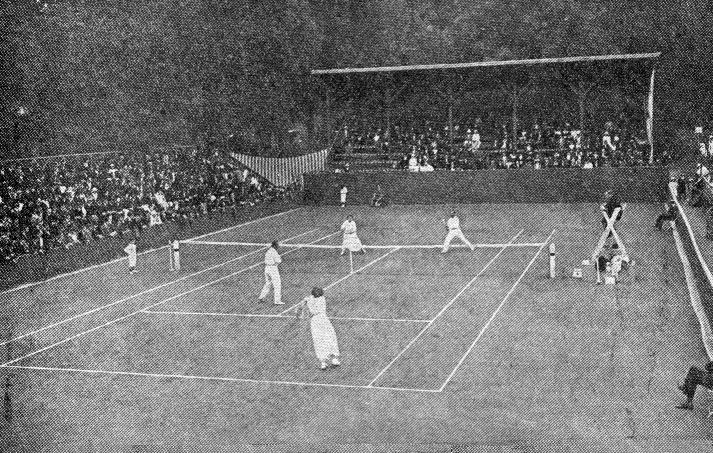 Mixed doubles: A Clay Court Final at the "La Faisanderie"
Stadium in Saint-Cloud, pre-1914.
.
Previous story : The first australian domination:Norman Brookes and Anthony Wilding
Next story : Big Bill Tilden and Little Bill Johnston, kings of the Davis cup
Des idées, des remarques, des suggestions?
E-mail

Dernière mise à jour : 30 Avril 2001
Copyright BLANCHE NET communications.
Avril 2001.