The British Team of the
"Great Era": Perry et Austin

Fred Perry
1909-1997
(U.K.)

"Can also play ping-pong"
is humourously marked
in the small print

Fred Perry's father, initially a strong unionman from Manchester in the industrialised north east of England, moved south to London to become a member of parliament for the Labour Party. Strange as it might seem, there-in lie the origins of one the greatest tennismen in the history of the sport. The young Mr Perry found in Ealing, a gentrified western inner suburb of London, the perfect environment for learning all nature of different sports: cricket and football at the local school and ping-pong at a local sports club. It was almost certainly in striking that small celluloid "ping-pong" ball that such fierce competitive instincts were to ultimately be aroused within him: in 1929 at the age of 21 years old he lifted the title of World Ping-Pong Champion! His passion for racket sports could have stopped there of course but he had by this stage already long started to take lessons at the local tennis club as well. The experience gained from ping-pong struck a strong chord which, compilented by his excellent physical condition, produced an extraordinary combination of natural strength and the "will to win". Hence by 1928 at 20 years old, whilst then being beaten by what were then amongst the best tennis players of the day, he was already becoming a very accomplished player in his own right.
It was one of the local amatuer coaches that encouraged Fred to adopt a style of play that utilised this natural strength to catch the ball early on the rebound, striking firmly whilst at the same time moving strongly forward in attack. The young man earestly decided to commit himself to a serious training programme. His father was supportive but at the same time realistic... he had exactly one year to either prove himself on the circuit or to give up! This was 1927.
As it turned out, he made rapid progress: he got through the first two rounds at Wimbledon in 1929 and reached the quarter finals the following year. This was the year of his trip to the USA and Argentina and saw the first of so many successes that were to come. His foot was to stay firmly on the accelerator as in 1931 he picked up the mantle of captain of the British team against the French in the final of the Davis Cup. This particular event may have ended in failure for the British but Fred both won against the great Borotra and played an excellent match against Cochet.

Two action shots of Fred Perry at Wimbledon

During the year of 1932 Perry could only stand by as spectator to the formidable Ellsworth Vines who proved to be totally unbeatable brushing all comers to one side - only Borotra managed to control Vines and on only one occasion this year, this was in the final of the Davis Cup in Paris. The young Englishman consoled himself in winning his first two grand slam titles, both in mixed doubles at: Roland-Garros with Betty Nuthall and at Forest Hills with Sarah Palfrey.

In 1933, he won his first mens doubles title with Pat Hughes in Paris but then went down at Wimbledon against Vines et Crawford in a drawn out ferocious battle over five sets. This latter experience was was to prove of enormous benefit. Fred was learning the importance of being patient at the top level against high quality opposition. In the subsequent Davis Cup final against the French, he carried off his first great victory against Cochet again over a drawn out five set match which proved decisive for the overall British victory.

This was to be but the beginning of a series of spactling successes. His superb victory over Cochet allowed him to later resume his career in the Davis in saying: "Don't forget that I'm the Bastard that stole the Cup from the French!"
Fred Perry went on to dominate world tennis until 1936 through a combination of aggression and his accute understanding of the psychology of match play. He won three consecutive mens singles titles at Wimbledon and remained unbeaten in all of his matches except two over this entire period: he lost agaist Crawford in Australia in 1935 and against Von Cramm at Roland-Garros the following year. Other than this he also had to pull out of Roland-Garros in 1934 and Forest Hills in 1935 because of injury.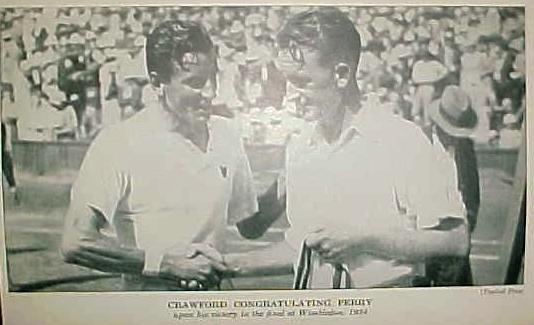 | | | |
| --- | --- | --- |
| Being a young man of modest background for whom fame was the only tangible wealth in life, Perry then in 1936 inevitably turned from amateur to the professional circuit with Bill Tilden. This change immediately provoked an enormous wave of protest and dissent from both the British population at large and their tennis association. It was seen as treason by the establishment! The public outcry was in fact very reminiscent of the problems that had been seen by Ellsworth Vines some four years earlier. Perry was hugely disappointed with what had previously been such loyal supporters. His staunch reaction was to apply for American Nationality. This process was a relative formalility since he was already married to the American actress Helen Vison. From there-on in he dedicated himself to the lucrative professional tournament circuit, initially with Vines and Tilden, and then in 1939 with Donald Budge. In 1939 he also coached the successful Australian Davis Cup team in their victory over the USA. | | Mr and Mrs Perry |
| | | |
| --- | --- | --- |
| | | Perry was a superb athlete standing some 5' 11" tall (1.80m): this was well above the average for the age. Due to his earlier exploits at ping-pong (see above) he had also developed a flexibility and speed of response that were most unusal for a such a large man. Perry knew instinctively how to use both his height and strength at the service and in the volley. He was renowned for his powerful forehand, a foundation from which he always moved forward rapidly in attack. His speed of reaction at the net was also very impressive and when combined with a ruthless forearm smash almost always proved a certain winner. Finally, his ability to place the ball accurately off the backhand helped to conceal his forward movement and continually keep his adverseries on the backfoot. |
As Lacoste had done before him, Perry created his own designer label on clothes carrying his name and logo of laurel leaves. The label can still be found in the shops today, like the pretty tennis skirt and pullover shown below.


On the left, a tennis racket signed by Fred Perry. Below, a box of tennis balls

Like Cochet and Tilden before him, Perry also wrote
his own book on the sport.
| | |
| --- | --- |
| | |
Fred Perry's Grand Slam results are summarised below : 8 singles, 2 mens doubles, 4 mixed doubles.
He was the first player to win all four of the grand slam singles titles, although this was not in the same year.
Australian Championship
Mens Singles
1934
Mens Doubles
1934 P.Hughes
Roland-Garros
Mens Singles
1935
Mens Doubles
1933 P.Hughes
Mixed Doubles
1932 B.Nuthall
Wimbledon
Mens Singles
1934, 35 and 36
Mixed Doubles
1935 D.Round
1936 D.Round
Forest Hills
Mens Singles
1933, 34 and 36
Mixed Doubles
1932 S.Palfrey
Davis Cup (4)
1933-36
Any ideas, remarks, suggestions?

E-mail

Dernière mise à jour : 24 Mai 2000
Copyright BLANCHE NET communications.
Mars 2000.