...
(5) 1907-1914
The first australian domination:
Norman Brookes and
Anthony Wilding



The reference to Brookes and Wilding's period of domination as being "Australian" is actually misleading since whilst Brookes was indeed Australian, his partner Wilding came from New Zealand. This great pre-war "Australasian" team therefore represented the association of Britain's two most distant colonies.

Norman Brookes came from Melbourne. He was an extremely talented player who developed a style of play and most of his own shots through an affinity and understanding for the game that can only be considered to be remarkable. He had started playing tennis relatively late at the age of twenty in a country where the sport was practically unknown.

Anthony Wilding came from New Zealand. He had had a greater exposure to the game since he lived in Europe for several years and was a student at Cambridge University. His trips back home over this period were limited to short holidays since travelling time was prohibitive. He played in his first Wimbledon Championship in 1904.



Norman Brookes, with his very
strange backhand!

Anthony Wilding

These two antipodians played together for the very first time in the 1905 Davis Cup. They were beaten by the Americans in the knock out stages as this was well before they were to rise to the pinnacle of their sport. Brookes was already an accomplished player since he managed to get to the final of the Wimbledon men's singles this year, the first foreigner to do so. Unfortunately for him, the Doherty brothers were still around and he crashed to a straight sets defeat against Little Do 8/6, 6/2, 6/4.

The Brookes-Wilding partnership resurrected itself in 1907 and this time with dramatic impact. Laurie Doherty had retired and the British simply had no answer to their rejuvenated assault. They won the Davis Cup in a crushing victory over the British. Brookes went on to win the Wimbledon men's singles, and become the first foreigner to win the tournament. He also win the doubles in partnership with Wilding.

Brookes went home to Melbourne with the Davis Cup, which he then successfully defended five years in a row. These defences were initially with Wilding and then more latterly with his compatriots Heath and Dunlop. They finally lost the cup back to the British in 1912 in what was a surprise defeat. Brookes was then too busy back at home to mount another challenge until 1914.

Wilding and americin McMoughlin in 1913
First Wimbledon final in history without
an english player. Wilding wins 8/6 6/3 10/8

Wilding left Australia behind him after having won the national championship in 1909. Trips between Britain and Australia were costing him two months of inactivity aboard ship out of every year! Whilst Brookes carried on defending the Davis Cup back home, he made a permanent move to Europe for the final years in the run up to world war one. He was, as a result, to establish himself as the greatest player of his era. He worked his way around Europe winning one tournament after another. After capturing the Wimbledon singles title from 1910 through to 1913, he was victorious in the Clay Court World Championships at Saint Cloud in both 1913 and 1914. His fame lead to invitations from all of the royal families of Europe. On one such occasion, he took the opportunity to win the handicapped doubles at Monaco with an English political figure, Lord Balfour himself! Everybody, in particular the ladies, fell head over heels in love with him!
Somewhat surprisingly, Wilding didn't form part of the Australian challenge to regain the Davis Cup in England in 1913. This is perhaps why the Americans were successful in taking the trophy back home!

In 1914, when Wilding was at his peak, Brookes finally decided to come to Europe. He stepped off the boat saying "I'm told by everybody that our Mr Wilding is unbeatable. I've just popped over here to check for myself!"

In the same style as the Davis Cup, Wimbledon at this stage still played a challenge round series before the victor stepped out against the previous year's champion. Brookes got to the final of the challenge round relatively easily. He then came up against the German Froitzheim who fought a ferocious game to take two match points against him in the fifth set. Lady Luck stepped in however as the linesman, with a blatant error, judged in his favour on the second of these points and he went on to win the last games quite easily. Destiny continued to work in his favour as he carried on to dismiss Wilding for the championship in straight sets 6/4, 6/4, 7/5! To cap it all, they then played together and won the doubles title.



Wilding et Lord Balfour
Finally back together again, they set off to America in July of 1914 to reconquer the Davis Cup. Their only competition in the challenge round was a German team lead by Herr Frontzheim which they dismissed without dropping a single game (see "The very first years of the Davis Cup").

Otto Froitzheim, german tobacco card,
1925
The "australasian" took place mid august, as World War 1 broke out in Europe two weeks two weeks before .Destiny was now of course about to deal a very special hand for everybody involved.The Davis Cup was locked up in a safe in New York. Brookes went home to Australia whilst Wilding signed up to the British Army. He went to his death in the trenches of Northern France. As for the German Frontzheim, his boat was captured by the British Navy on the way back and he spent four years in England as a prisoner of war!

We wouldn't see the Australians mount such a strong challenge for the Davis Cup again until 1950...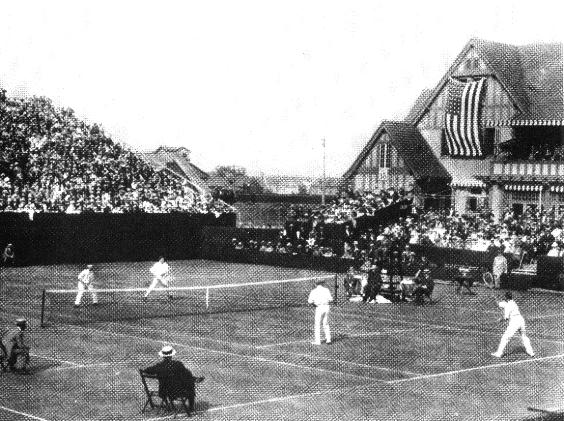 West Side Tennis Club in Forest Hills, New York, the 14th August 1914
Double between American (on the left) and australian
After the match, "Australasia" leads 2/1.
Previous story : The Doherty era
Next story : The first world championship on clay in Paris.
Des idées, des remarques, des suggestions?

E-mail

Dernière mise à jour : 12 Mai 2000
Copyright BLANCHE NET communications.
Mars 2000.