....

"Players" tobacco card
1936

Adrian Quist
(Aus)
(1913-1991)
Adrian Quist first came to Europe in 1935. Playing as doubles partner to the great Crawford, he immediately gained fame by winning the doubles titles at both Roland-Garros and Wimbledon. He hence became, at only 22 years old, one of the greatest doubles players of his era, a reputation he would retain for more than 15 years.
Short, stocky and energetic, he was brilliant at the volley. Whilst he saw far less success in singles on the grand slam circuit, he quickly made this a speciality at the Davis Cup. He staged a particularly notable singles victory over Bunny Austin in the challenge round of 1936, a feat that was considered quite impossible at the time. Against Von Cramm ,the following year, he lost the match in the fifth set, after EACH player had respectively had 13 (thirteen) match points!!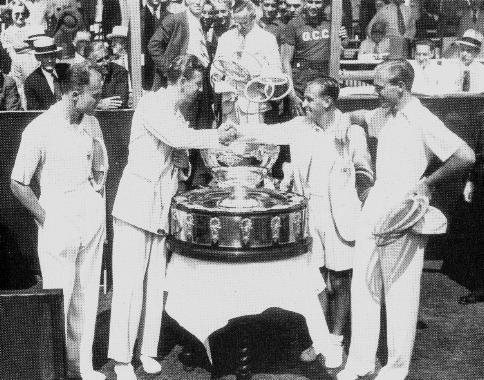 Before the Davis Cup doubles final of 1938: Mako, Budge, Quist and Bromwich
Quist was the unfortunate hero of the Australian Davis Cup defeat of 1938. Having beaten Budge and Mako together with Bromwich, he then collapsed in the final decisive singles match against Riggs. He knew how to take his revenge however when, the following year, he beat Riggs in a 5 set thriller. This placed the two teams on level points and set the scene for his compatriot Bromwich to win back the trophy in the final singles match. He was to carry on playing for Australia in the Davis Cup until 1948.


1938 Davis Cup at Forest Hills: Budge-Mako facing
against Bromwich and Quist (about to smash)
Adrian Quist goes down in grand slam history as the first player to have won all of the 4 great championships at doubles: Roland Garros and Wimbledon in '35, Australia in '36 and, most notably, Forest -Hills in '39. The Forest Hills final was an all Australian event with the opposition comprising Hopman and Crawford. Crawford was himself playing for the same place in history having also won all of the other 3 doubles championships.
From 1938 he joined forces with Bromwich to form an almost unbeatable doubles combination right up to 1950. This last particular year, Quist now being nearly 37 years old, he made a last trip back to Wimbledon (it was some 13 years since his last visit in 1937) for a final victory with his ever lasting mate "Brom"
Here are his grand slam titles : 2 singles et 13 mens doubles together with associated partners
Australian Open
Mens Singles (2)
1936, 48
Mens Doubles (9)
1936-37 Turnbull
1938-39 J.Bromwich
1946-47-48-49-50 J.Bromwich
Roland-Garros
Mens Doubles (1)
1935 J.Crawford
Wimbledon
Mens Doubles (2)
1935 J.Crawford
1950 J.Bromwich
US Open Forest Hills
Mens Doubles (1)
1939 J.Bromwich
Davis Cup (1)
1939
Des idées, des remarques, des suggestions?

E-mail

Dernière mise à jour : 24 Mai 2000
Copyright BLANCHE NET communications.
Mars 2000.