.

Challenge Round 1924 :
Johnston, Tilden, (USA)
Patterson, O'Harawood (AUS)

(7) 1920-1926
Tilden and Johnston,
the Davis Cup Kings

Previous story: 1912-1914, the first World Clay Court
Championships

Next story: 1923, "Little Bill" Johnston, and the last World Clay Court Championships
The Australians at first continued their domination after the end of the first world war. Gerald Patterson effectively picked up the mantel at Wimbledon from his compatriot Brookes who had won in 1914. Patterson was simply firing on all cylinders as he strode to victory in 1919 sweeping to one side the now ageing "Wizard" in the challenge round in three straight sets without putting a foot wrong; Sir Norman Brookes had of course moved into his forties by this time!
The ongoing Australian combination of Brookes and Patterson then moved to New York where they completely dominated the US Men's Doubles Championship of September 1919. Their feat was not a small one since it is in fact the losers and then current title holders, William Tilden and Vincent Richards, who were subsequently to become two of the biggest names ever known to the sport of tennis. The Australian domination of 1919 was cemented in place when Brookes and Patterson victoriously defended the Davis Cup against the British in Melbourne later that year.
Devoid of victory in 1919, the Americans were to re-stamp their authority the following year however. Their comeback can be singularly attributed to the talent, personality and strength of character of an individual called William Tilden. This man was to mark an indelible print on the sport for the next ten years.
William was only 26 years old when he passed from being a noted and talented player to become the undisputed world number one. Until 1919 William Tilden had gained his reputation in doubles. First of all in mixed, where he had picked up the US Championship titles of 1913 and 1914 and been finalist in 1916,17 & 19. He won the US men's doubles title of 1918, then playing with the youthful and fancy free fifteen year old Vincent Richards. He was finalist in the US men's singles championships of 1918 and 1919.

A Bill Tilden acrobatic
volley in mixed doubles.

Tilden and his reworked
backhand return
It was when he lost in the men's singles championship of 1919 against the then American number one William Johnston, that history was about to change! William went home from defeat to work strenuously on his style of play over the winter of 1919-20 and in particular to develop his backhand. It was thence armed with a revitalised backhand coupled with what was then the fastest serve in the game (timed at over 180 km/h) that William was to go on to impose himself at the highest level.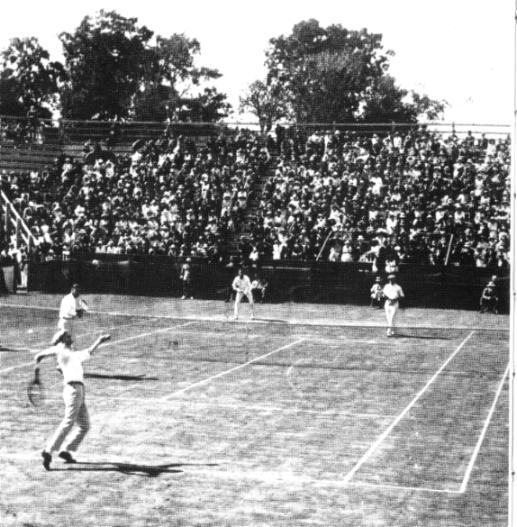 Challenge Round, Auckland in 1920.
Johnston serves, Tilden is on the left.
On the other side, Patterson and Brookes.
1920 was the to be his first year or international recognition. He won the Wimbledon Men's Singles Title at the first outing, winning relatively easily against the Australian Patterson in four sets. Two months later at Forest Hills he was to take his revenge against William Johnston in the men's singles, although here he needed a full five sets. He then set out for Auckland Australia with Johnston to represent the Americans in the Davis Cup. They finished the year by taking the trophy 5-0. Whilst all of the opponent players were Australian this year, the cup was actually played out in New Zealand in memory of Wilding who had sadly died in action in France in 1915. This was the last year that Australia and New Zealand were jointly associated for the Davis Cup, with each country subsequently mounting their own team.

This was to be the beginning of an impressive seven consecutive victories in the Davis Cup, with what was to become the famous combination of "Big Bill " Tilden and "Little Bill" Johnston. They were to win 32 out of 35 contested matches. In seven consecutive challenge rounds, they beat the Japanese in 1921, the Australians in 1922,23 and 24 and the French in 1925 and 26!

Big Bill Tilden imposed himself as world number one over the same period. In 1921 he won his "Grand Slam". He started by winning the French Clay Court Singles Championships with commensurate ease. Two months later he went on to retain the Wimbledon Singles Title in a challenging match where he had to save a match point against him from the South African Norton. (This was actually the last year that a challenge round was played at Wimbledon, subsequent years requiring all players to submit to the knock out rounds). At Forest Hills he came up against Little Bill Johnston again, this time asserting his authority in a simple straight sets victory.

"Tilden style":


Backhand volley


A Tilden service of 1919.

Little Bill and Big Bill before
one of their seven consecutive
singles finals at Forest Hills.
Bill wasn't to go to Europe again for some time now since he had effectively demonstrated a clear superiority over all of his contemporaries. He was master in his own castle and defied the rest of the world to come to him. He consecrated himself to successfully defending the Davis Cup from America and to retaining the US Singles Title. In this latter respect he remorselessly beat Little Bill Johnston in the final some six years in a row. The enormity of this feat is emphasised by Little Bill's status as World Number Two and Bill Tilden's only real contender over this period.

It was finally to be the French who were to successfully pick up the gauntlet. Whilst they lost to the Americans in the Davis Cup of 1926, Bill Tilden had lost his final match of the challenge round in four sets against a certain Rene Lacoste. This was his first defeat in six years and Bill seemed tired for the first time in his career. A week later, he then also lost the US Singles Title in a five set thriller to another Frenchman, Henri Cochet. Although he had been at the top of the game for so long, Big Bill was still only 33 years old. He wasn't about to give up easily therefore and dreamt of having his revenge. He was to firmly remain a thorn in the side of the successful French Muskateers for several years to come.

It was perhaps the end of his uncontested reign but it was to become the beginning of his legend. Many colourful pages of his career were yet to unrole...
| | |
| --- | --- |
| Little Bill and his piercing forehand | Big Bill in a typically academic stance. |
Note these extra-ordinary black tennis shoes...
| | | | | |
| --- | --- | --- | --- | --- |
| | | | Score | |
| 1920 | United-States | Australasia | 5/0 | Brookes and Patterson |
| 1921 | United-States | Japon | 5/0 | Shimizu and Kumagae |
| 1922 | United-States | Australia | 4/1 | Patterson and Anderson |
| 1923 | United-States | Australia | 4/1 | Patterson, Anderson and Hawkes |
| 1924 | United-States | Australia | 5/0 | Patterson and O'Harawood |
| 1925 | United-States | France | 5/0 | Lacoste and Borotra |
| 1926 | United-States | France | 4/1 | Lacoste and Borotra |
Previous story: 1912-1914, the first World Clay Court Championships
Next story: 1923, "Little Bill" Johnston, and the last World Clay Court Championships
Des idées, des remarques, des suggestions?

E-mail

Dernière mise à jour : 5 juin 2000
Copyright BLANCHE NET communications.
Mars 2000.